In this blog post, we feature an interview with an incredibly talented local artist, Sam Sidney, who just happens to be Kim's neighbor, friend, and client. Sam began creating felt art by chance earlier this year and it's been one of the happiest outcomes from the quarantine of 2020! We hope you enjoy this interview as much as we do.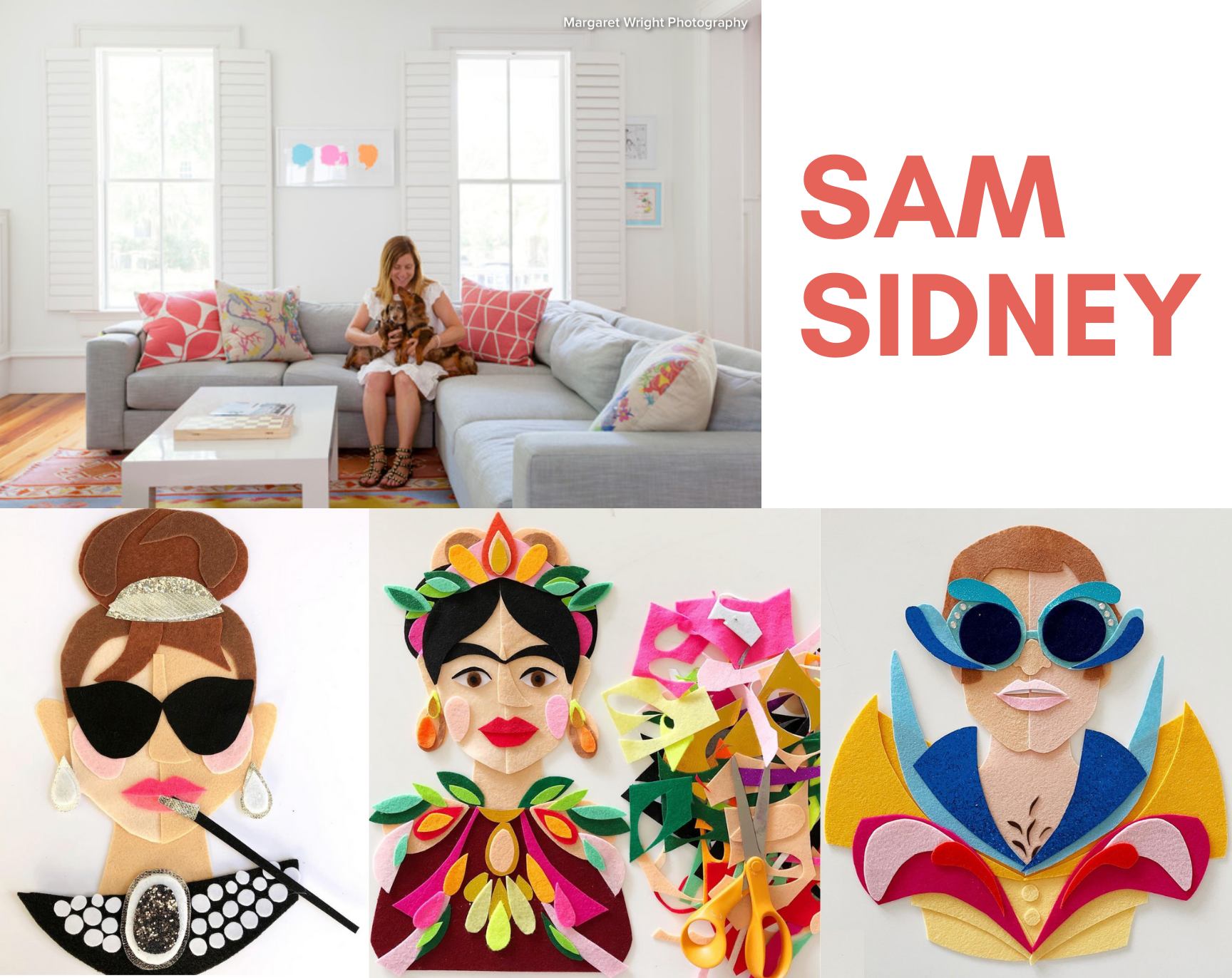 When did your creative spark on your most recent project (felt) take shape? We love seeing your posts and your incredible creations!
This was seriously one happy accident. During lockdown, in the spring, my kids and I were doing art projects daily and posting them on Instagram. One day my daughter Tessa decided to take out an old box of felt. We made collages with the scraps and played with the shapes and colors. It wasn't until a few days later, that I had the idea to make a self-portrait out of felt. I posted it on my Instagram account, and the rest is history!
Who was your inspiration growing up?
My parents are both very creative. When I was a child they had a children's bookstore. I often communicated with various children's book illustrators. I think that is where my love of drawing began.
How has your art evolved over the years?
I think my art has certainly evolved over time. I think different stages of your life dictate different styles of art. When I graduated college, I was making sculptures out of vintage high heels, then I began teaching art, once I had kids I stopped and began doing illustration. And now I have been working with felt!
What checks the boxes for you when you start creating something totally unique and different?
I certainly love color. It makes me happy! I also love bold lines and design. Working with the felt suits me. It's colorful, happy and not too messy!
How did you make the move down to Charleston?
My husband and I moved down here in 2007. We came for a job opportunity and never left. We truly feel like charleston is home! Our four children were born here and are happy!
What do you like best about living in Charleston? How has it added to your art growth and what do you miss about New York?
There is so much to love about Charleston. Where do I begin? We love our neighborhood and of course our neighbors! We love downtown and all the amazing restaurants and shops. Charleston really is full of so many creative amazing people for such a small town. As for what I miss about New York, probably our family and friends. That's the hardest part about living here. Grateful for FaceTime right now.
What's next for you? Not to sound cheeky, but you have inspired so many people with your fun inspiring attitude and creative outlet that people naturally gravitate to you and want more! Your most recent FELT EXPLOSION has taken Instagram by storm with a ton of commission work. How do you balance it all with such grace and a positive attitude and more so, with FOUR KIDS?
This definitely feels like a job. Not in a bad way, but in a way where I feel like every day I have certain things that I want to accomplish. I'm trying to get orders done in a good way without rushing. I really pride myself on good customer service and communication with people. I do get a good amount done while my kids are at school but I work a little bit at night as well. I try not to be too hard on myself and just enjoy the process.
Thank you, Sam! We love learning more about you and can't wait to see what you do next! To learn more about this fantastic lady and how to get your hands on one of her fabulous felts, follow her @SAMSIDNEY on Instagram. Check out her other business, also on Instagram, she shares with her wonderful business partner, Jane Ellen, @ILOVECHARLESTON, apparel with love for our favorite city, Charleston!