In this blog post, we feature an interview with a long time friend and client, Wendy Mauro. Wendy took her love of design and experience remodeling her own homes and turned it into a very successful business. Be aware, her projects are stunning and will make you want to start a new project!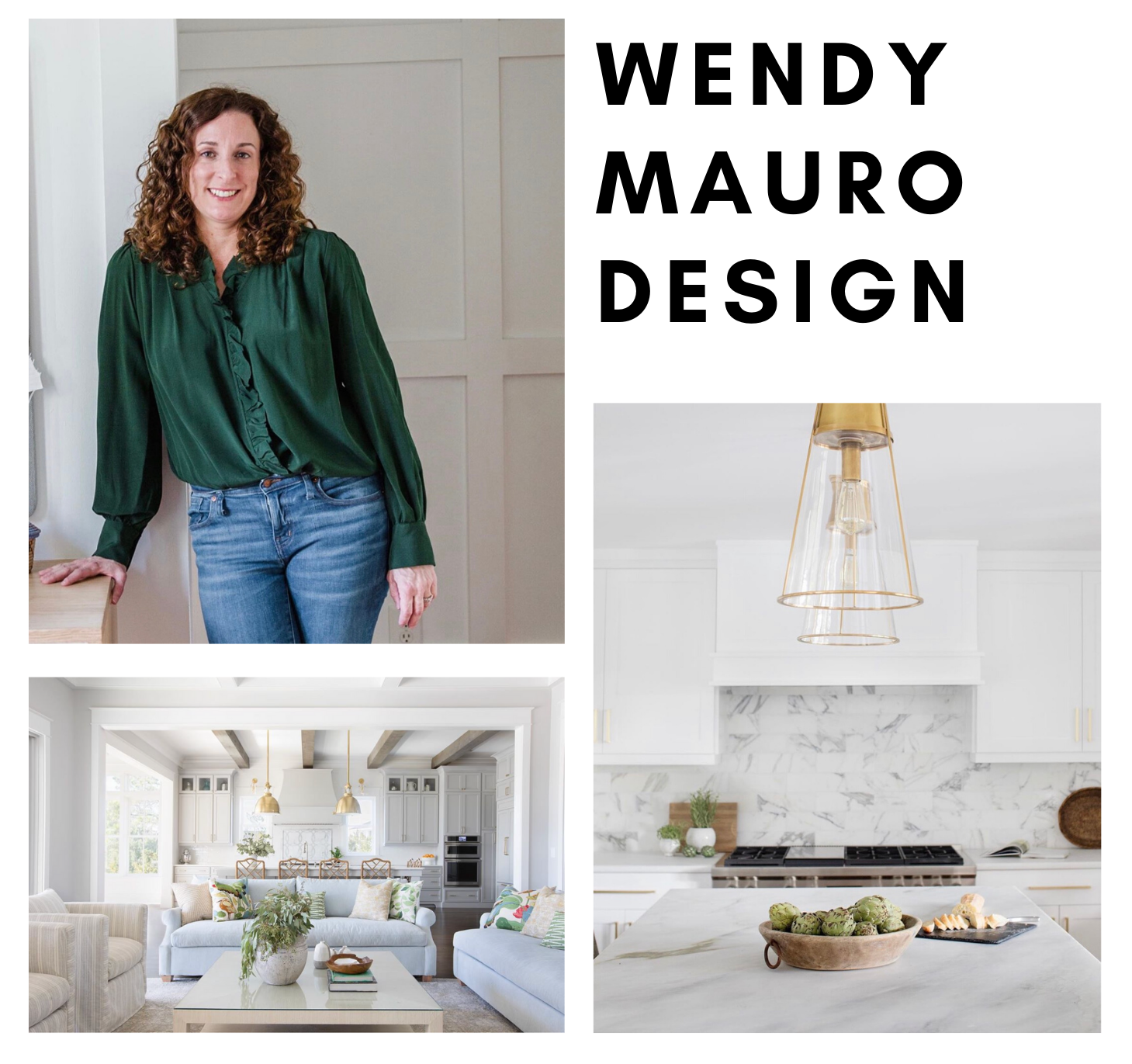 INSTAGRAM: @WENDYMAURODESIGN
You've lived in other cities, what makes Charleston so special that you decided to plant roots here?
We moved from NYC to DC to Charleston. We are more urban people and wanted to be in a city but not have the red tape and nuisance of city living (high taxes, regulations, only private schools). Charleston really was an ideal place. It is a cultured city with a great food scene. We really love history so we wanted something with historical character. Naively, we didn't realize that there were beaches here. We really like how we can be downtown or to a beach in minutes. The community reminds me of how I grew up and we wanted that for our kids. They can ride their bikes freely, run to friends, or go grab ice cream in our neighborhood.
You have developed your uber-successful design business in a short amount of time. You connect so well with people and are so genuine. We know that is so important, but what else do you think catapulted you? Of course, we love everything you do, but what was your inspiration for design or for making this your career?
First, thank you! I really do love what I do and it organically happened. I started doing cosmetic renovations to my own house. I never thought of myself as creative. I just would observe things I liked and try to replicate that. Then it manifested to why do I like that? Then I would try to incorporate that "feeling" into my spaces. I was fortunate to have supportive and encouraging friends (like Kim!). Kim and Kristie would ask me to do consults on new listings. I really like to see the potential in a home. I also had other friends that would need help with a room or updating a kitchen or powder room. I started taking community design classes to know the industry process. Instagram was a huge factor in the growth of my business. Design is a visual industry and I was able to document my projects. Now half my business comes from Instagram and the other half referrals.
What have been your biggest challenges?
I think my biggest challenge is the learning curve with builders or contractors. They have a very different mentality than design. They are very concrete and need exact drawings and plans. I do not have that technical skill. In the past, I would draft out bookcases or bench seating on paper with the measurements. Now I will hire a professional to draft the CAD drawings for builds. My ideas can then be translated so we are all on the same page. I was intimidated but I've learned to just ask questions. They know things I don't know and I know things they don't know. We are all in on a project together and we work together to make it a success and have happy clients. I really love renovations. They are definitely the hardest but so rewarding. As much as my challenge was working with builders they are now my favorite. I learn so much and my creativity is limitless. I can think of things and most of them say "Let's do it". When something that is in my head comes to life it is the best feeling.
What has been the biggest transformation project or projects?
I have had some really good ones the last year. I did a 4800sq ft full home renovation in Hobcaw. We took an older 80s home and modernized it with accordion doors, black windows, completely moving a kitchen, creating a new bathroom and mudroom. It was a big one. I have also had another Hobcaw one where we transformed the whole first floor. Moved walls, rebuilt a kitchen, added a powder room, mudroom, laundry and screened porch. I did a design consult on a house in West Ashley. I helped them with the floor plan and opening up the space more. They had an amazing water view but there was a huge 1960s fireplace in the middle of the house with low ceilings and no functional space. There are more and I love them all. No project or day is the same which makes it exciting.
What motivates you on each design?
I think my biggest motivation is the house's architecture. I really love history and the story that architecture tells about the time period. For example, they had dormer windows on houses to avoid taxes back in the day. I try to look at the house and the style that it represents and add those details to the inside of the home. If it's a cottage maybe arch a doorway. If it is a traditional home add picture frame board and batten to the dining room. When I am doing interior furnishings I try to create a focal piece that is the springboard for the room. It might be art, vintage rug, family heirloom. I use colors or aesthetic of that and carry it throughout the spaces.
How has your business and family morphed together? We love how you apply everyday functionality with your designs.
My kids are definitely the test subjects of ideas! Let's be real. We have spouses, kids, and pets that are messy. You need to live in your home. I do my best to select hard finishes that will hold up over time. I am not of the mentality that rooms are off-limits. We do have spaces that don't have TVs and that definitely hinders the kids from hanging out there (ha!). We use every single room in our house. Most of my clients are young families or have grandchildren. I try to think how my family would use the space. There is a time and place for a white linen sofa but that will be awhile if kids or pets are involved.
What's next? Do you think you will ever build a brick and mortar or create your own line of furnishings or accessories?
Part of me would love a storefront and another part would not want the worry. This bizarre time makes that hit home more. Maybe an online store but I also feel I need to focus on what I am good at. Sometimes ideas go all over the place and you get ok results on a lot of little things. I would rather have a niche that I am awesome at. I love working on renovations. A full home renovation and furnishings would be ideal. I like the constant change and the ability to be creative in new ways. There is so much inspiration out there.
Thank you, Wendy!